Switches from Extreme Networks Inc., founded in 1996 delivers simplified network access and management, and full control and visibility, ease of administration from the cloud. Extreme serves across verticals enhancing business performance. Recognised by Gartner's Magic Quadrant for wired and wireless LAN Access Infrastructure.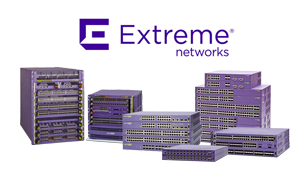 Technology:
Handles Remote, Cloud, Security, Machine Learning, Campus Fabric, Data Center Fabric, Internet of Things, Wi-Fi 6
Helping a large amount of automated deployment with EPICenter monitoring software.
Turning any extreme switch into a wireless control switch by installing a software module.
Meeting the toughest challenges in network security and IP-based communications.
Robust cross-VLAN method for loop protection.
Superior XOS in managing and access control for wired as well as wireless.
Round the clock network support
Robust hardware for 50 switches and environment.
Great uptime without any issue of crashing.
Mature solutions allowing firms to securely manage network infrastructure.
Supporting layer 2 and layer 3 topologies with good performance.
Fitting into diverse needs from the core to the edge fantastic management and control features given by the XMC management software.
PRODUCTS
     a. Extreme Switching
ExtremeCloud™ IQ
Replace the error-prone networks with automated networks.
Advantages to enterprises like automate end-to-end, edge-to-DC network operations, End to End Enterprise, Edge to Data Center network solutions.
Proven quality with ML/AI innovation.
Realise businesses 30% cost reduction advantage than competitors.
Maximum performance through network assurance.
Easy to understand ML enabled scorecards.
Unparalleled innovation through micro services, reactive stream processing, and in-memory data grids.
Improved digital experience through autonomous enterprise.
Automated connectivity with clients, workforce, patients, students etc.
Saving property and people through facial detection software.
Improving healthcare with IV pumps monitoring, meter pill distribution and track volumetric.
Student engagement through connected classrooms, device access.
Enhancing shopping experiences, sales growth, and loyalty.
X435 Series
Cost effective and role-based Ethernet switches with Layer 2 switching, static routing, advanced PoE ideal for SMEs.
Simplify and streamline network operations through cloud technology.
Secure traffic support for IEEE 802.1AE MACsec for Extreme switch platforms.
Centralised role-based support for policies through ExtremeControl policy manager.
Fanless feature for noise sensitive backgrounds like classrooms, retail sites.
Extreme Management Center
Comprehensive suite with wireless management
Facilitating the work of IT executives.
Device management regardless of vendors.
     b. Extreme Routing
Support for thousands of switches for wired or wireless networks with end to end security.
Agile network with improved security, fast resiliency,
automated moves, delivering competitive advantage.
Products
ExtremeCloud™ IQ – end to end, edge to DC networks.
Extreme Management Center – automating routine tasks, issue-based alerts with timebound reminders till solved.
     c. Extreme Wireless
Robust Wi-Fi 6 enabled by ML that gives more visibility.
Wi-Fi technologies like OFDMA, MU-MMO, and software defined dual 5 GHz radios for context-based optimisation.
Cloud support for every aspect of IT operation.
Access points – AP460C Access Point, AP505i, AP310i/e Access Point, AP510ie, AP650/650X, AP510C/CX, AP560i, AP560h, 410i/e Access Point.
     d. Management and Automation
ExtremeCloud™ IQ
Offers deployment and maintenance with a human touch.
Centralised cloud driven reporting for optimum performance.
Simplified ML driven health KPIs.
Innovative end to end network management and operations integrating design, deployment, and security of networks.
Cloud driven networking for risk sensitive environments.
Free to deploy in any data center environment in 3 deployment options – public, private or local cloud.