Renowned product from Cisco Systems, Inc., the world leader doing 85% of internet traffic.
Cisco Switches connects, communicates and collaborates network connectivity, and segregate networks for different tasks (VLANs), powering IP phones and other network devices (Power over Ethernet).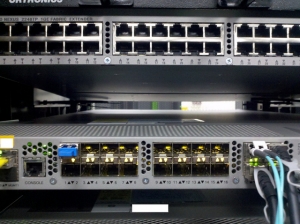 Technology
One network, one OS, wired and wireless.
Easy setup and configuration for VLANs and other tasks.
High-performance interconnecting equipment and managing.
Secure access layer for businesses.
Entry-level enterprise-class Layer 2 access for branch offices.
Layer 3 FastEthernet and GibabitEthernet switches to manage power consumption of network infrastructure and attached devices.
Getting everything LAN needs.
Improve user experience through new applications and mobility.
Advantage of implementing in your internal network hassle-free.
Aiding SMBs in scalability.
Deployment scope of using in many environments in the data centre and office networks.
PRODUCTS
Network switches
a. Cloud managed
Cloud managed switch with simple UI for easy network management.
Meraki MS120-8 – with integrated mounting
Meraki MS120 – with multiple power options
Meraki MS210 – stackable IG switch
Meraki MS225 – stackable 10G switch
b. On device managed switches
Cisco Catalyst 1000 Series Switches
Easy to manage switches with wide range of power over Ethernet (PoE) and port combinations to meet office needs.
Cisco Catalyst 9200 Series Switches
High security for hardware integrity, software, and data flowing through the switch.​​
Resiliency with FRU power supplies, cold patching, modular uplinks, and PoE.
Cisco Catalyst 3650 Series Switches
Support mobile devices and apps to give simplified mobile experiences for workforce and customers with 3650 mini-series to the 3650 multigigabit mega series.
Supports up to 50 access points, helps 1000 wireless customers on each stack.
Some switches support PoE and PoE+ giving 30W of power per port
Select models gives 60W of power per port with UPOE.
Additional security for Cisco TrustSec, Flexible NetFlow, and MACsec encryption