Global software provider for network security, cloud security, security management, end point security and data security. Protecting more than 100,000 organizations worldwide. Highest effectiveness score with 98.4% overall security, 100% block rate according to NSS Labs Breach Prevention Systems (BPS).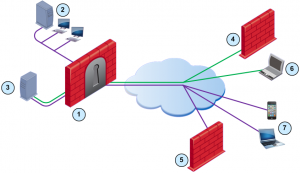 Technology
Secure VPN that fosters work from home option.
Effective threat mitigation blocking data leaks through SSL inspection.
Protection against Zero-day attacks.
Excellent option for big companies who earmark more funds for information security.
Advantage for small firms to automatically update, block threats through IDS/IPS and logging.
PRODUCT
Check Point SandBlast
5G multi-layered protection for enterprises with enhanced anti-ransomware and CPU level emulation capabilities.
Get focused SMB strategy with multiple UTM models supporting Internet, 4G/LTE, VDSL interfaces, and built-in routing capabilities.
a. Small Business Security
Variants – 1500 Series Security Gateways for small offices/branches. 1530,1550, 1570, 1590
b. Branch Office Security
1.5 Gbps threat prevention including SandBlast.
Top SSL inspection.
Optimised CPU utilisation blocking Gen V attacks.
c. Mid-size Enterprise Security
Protecting Gen5 attacks with 7.6 Gbps threat prevention.
Scaled security upon on-demand.
Efficient operations by cutting down management time.
d. Large enterprise Security Gateway
Scalable security architecture that gives 15Gbps scalable up to 750Gbps threat prevention performance.
e. Data Center and High-End Enterprise Security Gateways
Modern data center protection, threat prevention for hybrid cloud architecture up to 1.5 Terra bps.
Models 26000 and 28000 offers 60 security services 30 Gbps threat prevention.
f. High Performance, Scalable Platforms
Check Point 44000, 64000 firewalls supporting the need of growing networks offering robust performance.
Appropriate for high network capacity modern data centers and Telco's with 228 million concurrent connections and 9 million sessions/sec.