An industry leader with 30 years of security software experience giving protection from ransomware, spyware, malware, and cyber threats. Trusted by companies worldwide in network defence, small business security, endpoint security, and hybrid cloud security.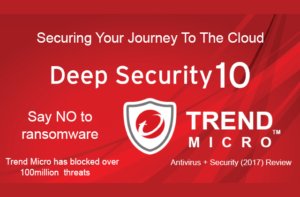 Technology
Cloud-based AI technology for secure transactions, Trend Micro's Pay Guard keeps your banking transactions secure from snoopers.
Get a welcome extra layer of protection which could block even brand-new undiscovered ransomware.
Get privacy on social media with encrypting passwords.
Guards against identity theft.
Real-time behaviour monitoring and on-demand scanning, antivirus protection, anti-phishing and malicious URL blocking. Its anti-ransomware layer, checks your documents, OneDrive and Pictures folders, as well as any connected USB drives, alerting you file modification attempts by trusted processes. You can add more folders as necessary.
Trend Micro's Windows security software programs have various customizable options, right from Mute Mode for gamers to automatic scheduling of scans.
Server Security and virtualization Security
Protection across the data centre, virtualisation, and private cloud.
Protection from existing and emerging vulnerabilities in web and enterprise applications and OS.
Blocks a broad range of threats to endpoints, like viruses, spyware, web threats, rootkits, and network worms.
Advanced web and email threats at the gateway.
Products  
Hybrid Cloud Security – Trend Micro Cloud One
Cloud security that integrates with existing Google Cloud, Azure, VMware, Microsoft, and AWS.
Flexible options in choosing cloud, platforms and tools without system slowdown.
Supports all cloud platforms where enterprises can integrate directly into DevOps processes and toolchain. No need to re-architect.
All on one security solutions across environments like virtualized data centres, legacy ones, serverless apps which you can add to your app with two lines of code.
Secure cloud migration through Trend Micro Cloud One platform for enterprises having a hybrid or multi-cloud strategy.
Benefits of automatic discovery and deployment of security.