Single point data loss prevention from Forcepoint
Cybersecurity behemoth creating trust worldwide. Partner of IBM, 3M, Qualcomm, Boeing, DOW, Walmart. Approved and listed on the NCDSMO baseline list.
Advanced cybersecurity for the most valuable business data and IP. DLP for all the applications, staff, to create, store and move data.
Visibility and control wherever people work and anywhere data exist.
Strong protection of sensitive customer information helping you fulfil compliance.
Quickly identifying riskiest users faster, reduce false positives.
DLP solution used by top companies in the world like IBM, 3M, Microsoft, Qualcomm etc.
Detect data breaches protecting sensitive data in on-premise or cloud.
Detect sensitive data within images be it screenshots or scanned ones.
Advantage of sharing intelligence on multiple points.
Advanced data security through centralized management.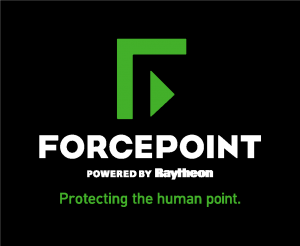 Products
Cloud Security
      a.CASB Cloud Access Security Broker
Protecting email and web regardless of location or device.
Featured with intelligent threat detection blocking rouge programs.
Forcepoint Cloud Access Security Broker technology securing cloud apps like SaaS, PaaS, IaaS.
Easy application governance by comply with PCI, SOX, HIPPA with location-based access controls.
Cloud application risk scoring in line with regulatory requirements or any benchmark.
Automatic risk updates whenever available.
Risk mitigation with Forcepoint CASB.
      b. Web Security
High security helping transit users from advanced threats.
Super speed and connectivity for users working anywhere, anytime.
Threat detection with Forcepoint ACE (Advanced Classification Engine) technology for any technique like analytics, machine learning, or behavioral businesses.
Direct peering partners removing latency. Solutions that none gives.
Data protection with integrated CASB functionality for better visibility and control.
Url filtering that help granular control.
Security extension option to mobile devices.
ThreatSeeker Intelligence with Forcepoint ACE security helping you analyze five billion request a day by uniting millions of endpoints.
Forcepoint 9x Magic Quadrant and Icident Risk Ranking protects data from accidental, compromised, and other people-based risks.
      c. Email Security
Blending of ML, sandboxing, and predictive analytics technologies ensuring real-time protection.
Deep content inspection and protection from zero-day threats by integrating with full system emulation sandbox.
Encryption for emails by controlling attachments.
The scope of improving security awareness through phishing education.
Url wrapping feature available in the package.
      d. Web/url filtering
Filters with ThreatSeeker threat intelligence more than 10,000 analytics. Uses ML and other advanced techniques.
Creates customised and role-based reports.
Custom url filters for website access.
NETWORK SECURITY
      a. NFGW Next Generation Firewall
Replace pricey MPLS with SD-WAN in branches/stores by linking to the cloud simultaneously boosting the performance of Office 365.
Stop any advanced evasions that bypass your IPS.
Quick incident response with an interactive visual interface.
One click updating for hundreds of physical and virtual locations.
Redirect unsanctioned cloud apps to relevant apps or block totally.
Secure vital networks and apps with Sidewinder proxy technology.
Manage attacks, stop exfiltrating stolen data.
Advantage of safely deploying apps to cloud.
Limits access to unsafe content with URL intelligence.
      b. SD-WAN connectivity and NGFW security
Multi-layered stream inspection preventing advanced attacks.
Built-in NGFW, VPN and IPS.
Virtual and physical security for AWS, Azure, and VMware.
CASB and web security to protect data and people who access content and apps.
Robust APIs to enable SD-WAN and NGFWs.
Physical Appliances
Supports custom network interfaces.
Deploy all appliances as Layer 2, Layer 3 firewall, or Next Generation IPS.
Cloud Appliances
AWS, Azure Cloud
Protecting both north-south communications in/out of cloud and SDN east-west traffic.
Unified Forcepoint NGFW software.
Virtual Appliances
Advantage of clustering with firewalls.
Available for KVM and VMware ESXi and NSX.
Automates network microsegmentation
Scales to 64 CPUs.
DATA & IP
      a. Data & Insider Threat Security
Single unified policy to control data while using or at rest for apps on cloud, web, endpoints, email, and inhouse data center.
Easy to comply with GDPR, CCPA.
Power IP protection for trade secrets, client financial data, PII and PHI, company financials, even when users are in or out of network.
Requirement based automtic data breach prevention without affecting the productivity.
      b. CASB Cloud Access Security Broker
Identify and allow only relevant and useful cloud apps with Focrepoint CASB
Risk calculation and bad actors account prevention through ML and UEBA based behavioral finger printing.
Individual device-based security and access to cloud apps.
Excellent cloud app admin control by giving administrative rights while making global access changes and user access.
Protected file sharing with third parties in SaaS leaving no room for exposing critical files.
Protect any cloud app like SaaS, PaaS, IaaS, regardless of using APIs, inline proxy.
Easy to comply with PCI, SOX, HIPAA.
Fix compliance gaps by following best practices like PCI DSS, NIST, HIPPA etc.
Automatic anomaly detection with AI enabled UEBA software.
      c. Email security
Device access control sensitive email attachments.
Enforce company email policy by identifying irrelevant image attachments like nude pics etc.
Secure email delivery with utmost confidentiality using Forcepoint Email Encryption.
Training the users on safe email practices.
Spam protection and security from phishing emails, zero-day threats through sandboxing.
INSIDER THREAT
      a. Behavioral analytics
Identify risky behaviours like stockpiling information and loss of IP along with the user.
Detects compromised account by learning attributes like access patterns blocking suspicious elements, bad actors from accessing sensitive knowledge assets through UEBA.
Helping businesses to identify, categorizes incidents, events, risks and add context and analytics to it.
Data security by identifying human behaviour patterns and detect enterprise risk.
Flexibility to create analytics solutions based on use cases so that organisations don't need to invest on a data scientist.
Using sentiment analysis and language processing to detect unrelated and dissimilar threats.
      b. Insider Threat
Foresees data theft behavior indicators of employees who plan exit.
Detect workplace harassment by tracking verbal attacks through all communication channels like IM, SM
Prevents workforce violation of contractual agreement and ensures temp resources use all relevant company resources.
Total visibility of user activities.
Excellent risk scoring mechanism giving feedback on monthly risks of single as well as group users.
Insider threat mitigation through intuitive user interface with a sequential activity listing.
Risk detection through video capture of user actions.
CROSS DOMAIN
      a. Data Guard
Protect government agencies from cyber criminals trying to penetrate and capture data.
Automated data transfers helping agencies, businesses, to save time and cost in manual data transfers.
Flexibility for custom data validation.
Fast big data transfer between multiple sensitive networks or clouds with SIEM alert and monitoring from lower level to the higher level.
Easy log management with binary auditing, OS syslog and data transfer logging.
Flexible data inspection adaptable to diverse data types and security policies.
      b. Trusted Thin Client
Access to multiple networks from a single workstations/device to many domains helping enterprises to reduce workforce, power consumption, and office space.
Flexible data access and sharing anywhere like office, vehicles, ship, office etc.
Scalable to support 20 networks and 400 endpoints in one distribution console.
Centrally managed encrypted client image preventing data moving to external device.
Complies with NIST guidelines and National Cross Domain Services Management Office Initiatives.
      c. SimShield
Fully automated and controlled communications, content inspection and content sanitisation enabling effective training environments.
Follow Redundant, Always Invoked, Independent, and Non bypassable principles to ensure security.
Efficient system to filter, protect, exchange data between segmented networks for video streaming, and audio for live as well as virtual training.
      d. Forcepoint Trusted Gateway System
Secure mutli channel transfer of files with one system meeting FVEY partners' policy requirements.
Automated uploading of files via SCP/Secure File Transfer Protocol.
Admin management through relevant permissions to perform auditing and monitoring.
Follow RAIN principles to inspect content.
      e. High Speed Guard
Staff redeployment advantage through swift data transfer and validation tasks enabling enterprises to save time and use their staff for other critical tasks.
Virus detection in milli seconds through algorithms.
Fully automated and fast data transfer of more than 9GB/s among networks, domains, or cloud.
Operations and maintenance savings by following standard software development practices.
Efficient alert monitoring process reducing admin overheads.
      f. Forepoint WebShield
Secure Web search restricting lower-level netorks to a predefined server or file types enabling users to ensure security.
Protected on demand web browsing and data access from one security domain to another eliminating data duplication.
Facilitating multilevel chat by validating XMPP traffic through HTTP.
Enhance collaboration without risking security through permissions.
Eliminating software modifications requirements on client workstations.
Customized file policy transfer paths specific to organization
Effective Producer and Releaser accounts management in line with company policies.
      g. Trusted Mail System
Secure exchange of emails on multiple networks through 'a single inbox' helping users not to overlook important mails thereby inviting timely responses.
Admins can inspect the email content and attachments.
Admin can enforce policy on users on different networks who sends emails and attachments.
No need to relocate or switch mail accounts to access secure email.
Cost savings by cutting down unnecessary email client licenses.
Data inspection benefit to detect dirty word, verify file types etc.
      h. Trusted Print Delivery
Reduce number of printers by printing from existing application having different security to a single printer located on the high side network.
Ensures no transfer of malicious data from the low-side to the high-side network or unintentionally transferred from high-side to low.
Data inspection through Forcepoint Trusted Gateway System guard technology for dirty word search, file type verification and virus scanning.
Enhanced security through print file conversions.
User friendly print submission through duplexing, stapling, and page orientation.