Fortinet email security – Antispam
Fortinet is an established player in cyber security products and services like antivirus programs, web filtering, antispam, next generation firewalls etc. They offer integrated products to protect the entire IT infrastructure.
Technology
Uses FortiGuard Labs' superior security technology against common and advanced threats.
Comprehensive tracking and protection of inbound and emails in transit using sandboxing technology and deep analysis.
Works with existing email infrastructure, on premises, or Cloud.
PRODUCT
FortiMail
Secure Email Gateway against DLP, encryption, and message archiving.
Helpful to meet compliance requirements like HIPPA, PCI-DSS, and GDPR etc.
Offering on premises or cloud (SaaS) in public clouds like Azure, GCP, or AWS.
Multi-layered email security through processes like identifying, malware/virus detection, stopping spam/phishing, addressing targeted attacks.
Meeting compliance specific policies like HIPPA, SOX, GLBA thereby defending outbound email from data leaks.
Models
Fortinet FortiGate 7060E-8-DC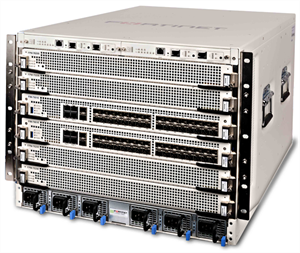 Specifications:
100 Gbps NGFW throughput
80 Gbps threat protection throughput
120 Gbps IPS throughput
Features
Chasis based firewall ideal for large enterprises, data centers, well suited for wide range of service provider deployments.
Best performance against threats inside encrypted SSL traffic.
Incomparable networking flexibility features; eight 100 GE (Gigabit Ethernet) ports, sixteen 40 GE ports and sixty-four 10 GE ports.
Available in simple packages that reduces complexity with centralized pricing and licensing tied to the chassis against individual blades.
FortiGate 7040E Network Security/Firewall Appliance
Fortinet's high-end enterprise chassis firewalls available in different configurations meeting enterprise requirements, with flexible deployment offering superb NGFW performance, capacity, scalable meeting vast amounts of mobile and cloud traffic of enterprises. Firewall protection covering intrusion prevention, malware protection and application control.